11 July 2011
Sir James Galway International Masterclass & Convention
Showcase Recital July 26, 2011 Weggis Switzerland

August 2011 Solo performance 2011 NFA Convention
Charlotte, North Carolina, USA

31 October, 2011- Teatro Colon - Paganini: Moto Perpetuo

10 November 2011 8:30 p.m., Buenos Aires Philharmonic... information here Solo performance Ibert Flute Concerto -

---

April 2012 Guest Artist Residency at Texas Tech University,
Lubbock, Texas USA

4 May 2012
Aram Kachaturiam flute concerto
Ridgewood Symphony Orchestra - Ridgewood, New Jersey, USA
16 December 2012
Colon Theatre
Mozart Flute Quartet K.285 a - time 11:00 am
with EIBA Ensemble-Instrumental de Buenos Aires

Salon Dorado of Colon Theatre- time 15:00 - 18:00
with Viviana Guzmán and Horacio Massone

---

28 March 2013 in Posadas
Morlacchi, Il Pastore Svizzero

28 April, 2013 Wood wind quintet sunday Colon Theatre
8 June J.J. Quantz Concerto in G major
Iglesia metodista Central in Buenos Aires -Av. Rivadavia 4050

JUNE 22, 2013
Claudio Barile, flauta
Usina del Arte
Don Pedro de Mendoza 501 CABA.

AUGUST 10, 2013
NFA Flute Convention, New Orleans USA
Six Tango Etudes by Astor Piazzolla, for Flute alone

AUGUST 23, 2013
Auditorio U.C.A.

SEPTEMBER 12, 2013
Carl Nielsen Flute Concerto
Philharmonic Orchestra, Colon Theatre

---
JANUARY 14-25, 2014
Brasilia -Brazil
"The 36th Summer Course of the Music School of Brasilia"
(36º Curso de Verao da Escola de Musica de Brasilia)

"On behalf of the Federal Government in Brasilia, we are hereby inviting you Claudio Barile to participate in the 36th "Summer Course of the Music School of Brasilia (36º Curso de Verao da Escola de Musica de Brasilia), which will be held between the 14th and the 25th of January, 2014, in the city of Brasilia, DF, Brazil."

February 9, 2014
CICLO DE MÚSICA DE CÁMARA 18 Horas
Claudio Barile, Flute Paula Peluso, piano
Obras de Bach, Reinecke, Faure, Prokofiev y Morlachi
Entrada Gratuita

MARCH 13, 2014
Curitiba ( Brazil)
Nielsen Flute Concerto
APRIL 26, 2014
La Pampa ( Argentina)
Flute and Piano Recital with Paula Peluso, piano
29 Mayo 7 p.m.
Flute & Piano Recital
Claudio Barile, flute
Paula Peluso, piano
Radio Nacional
Dirección: Maipú 555. CABA. CP 1006
tel: +54 11 5278-9100


JUNE 15, 2014
Colon Theatre 11:00 AM
Flute and Piano Recital with Paula Peluso ( piano)
" Interpretes Argentinos


Junio 17 de 2014
Ciclo de Soirées Musicales Premium 2014

organizadas por La Bella Música
Presidente Mtra. Patricia Pouchulu

en el Hotel Sofitel Buenos Aires Arroyo, Argentina
September 26th, 9 p.m.
Flute and Piano with Paula Peluso
Aula Magna of the Universidad Nacional del Comahue city of Neuquen

Reinecke
Fauré Fantasía
Poulenc
----
Enesco
Martin
Prokofiev
---
September 27th, 6 p.m.

CPE Bach d minor concerto
Iglesia Metodista Central with Mario Videla and Academia Bach orchestra
Av. Rivadavia 4050


---
September 28th, 4:00 PM

CPE Bach d minor concerto
San Isidro
Parroquia San José -
Diego Palma 215 San Isidro
September 30th & October 4
Primer Festival De Musica
October 3rd, 2014
First music festival (Patagonia)

CPE Bach d minor concerto for flute and strings.
Claudio Barile, flute
Director Fabrizio Danei
Fundacion Patagonia Cultural Camerata
Patagonia Cultural Foundation Auditorium,
General Roca, Río Negro
---
MASTERCLASS Y CONCIERTO CLAUDIO BARILE-
October 12 & 13, 2014
Santa Rosa, La Pampa
Claudio Barile, Flute
2015
Saturday, January 17, 7 pm
Claudio Barile, Flute
Orquesta de Camara deBuenos Aires
Vivaldi Concerto in C minor, RV 441

Gluck Dance of the Blessed Spirits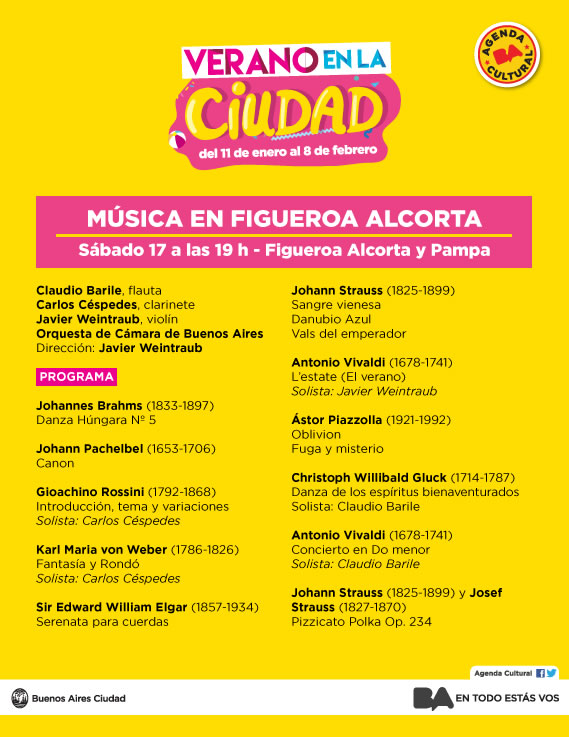 January 25, 2015


USINA DEL ARTE
DOMINGO 25 DE ENERO DE 2015 – 11.30 HS.
CLAUDIO BARILE (flauta)
PAULA PELUSO (piano)
http://www.usinadelarte.org/category/camara/
PROGRAMA
Primera Parte
Johann S. Bach Sonata en Mi bemol Mayor BWV 1031
Allegro moderato
Siciliano
Allegro
Franz Schubert Introducción y Variaciones sobre el tema de
"La bella molinera" D.802
Segunda Parte
Cécile Chaminade Concertino en Re Mayor op.107
Andrè Jolivet Chant de Linos
Francis Poulenc Sonata para flauta y piano
Allegro malinconico
Cantilena
Presto giocoso



October 17, 2015
Nordelta Recital,
Buenos Aires
Claudio Barile, flute
Paula Peluso, piano


April 9th, 2016
Brandemburgues #5 at Iglesia Evangelista central con la Orquesta de Festivales Bach.
April 13th, 2016
Mozart K.313 GMajor concerto con la Orquesta "La Filarmonica" in Segundo Festival Konex de Musica Clasica 2016
April 23rd, 8 p.m.

Claudio Barile, flute
Aram Khachaturian flute concerto in d minor
Buenos Aires Philarmonic
for more information click here

---
April 24th,2016 9 p.m.

Flute & Piano Recital
Claudio Barile, flute
Paula Peluso, piano
Paraná in Auditorio de la UCA
May 29th, 2016 7 p.m.
Flute & Piano Recital
Claudio Barile, flute
Paula Peluso, piano
Radio Nacional
Dirección: Maipú 555. CABA. CP 1006
tel: +54 11 5278-9100
July 6th, 2016
flute & piano recital
con Paula Peluso ( piano)
Alberto Ginastera -
Impresiones de la Puna
Alberto Williams - Sonata op. 48
Astor Piazzolla - Etude 2 and 3
Historia del Tango
Concierto lugar de encuentro
Templo Libertad at 7:00 PM Libertad 769
Ciudad Autonoma de Buenos Aires
---
Parana October 5th, 2016
para el wed the 5th in
Teatro 3 de Febrero,
Organized by Asociación Mariano Moreno.

Paraná October 2016:
-Bach sonata BWV 1034;
-Cesar Franck,
Sonata in A Major
-Alberto Ginastera: Impresiones de la Puna;
-Sergei Prokofiev:
Sonata Op. 94